Pay My Bills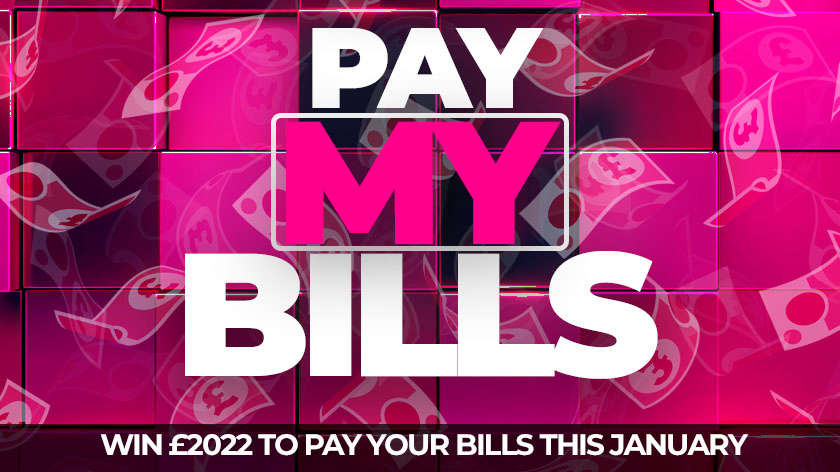 Reveal the words "Pay" "My" "Bills" and you could win the cash to... PAY YOUR BILLS!
The January bills are coming in from Christmas, your mobile phone bill is maybe higher than expected and your energy bill is...well, let's not mention that one. How does £2,022 sound to pay them off and more?

HOW THE COMPETITION WORKS

On air there are 90 numbered boxes. Behind each box is 1 word. If you get to play a competition round you will choose 3 box numbers and if they reveal the words "Pay" "My" "Bills" (and in that correct order) you will win £2,022!
Listen to kmfm as much as you can because the more you listen the more chances you have of winning as you will be able to whittle down the boxes not to choose.

WE'RE PLAYING EVEN MORE ROUNDS
From Monday 24th January, we're giving you EVEN MORE chances to win by playing even more rounds of the competition. Now at 11:30am, 12:30pm, 2:30pm, 3:30pm and 5:30pm.

HOW TO ENTER
Text BILLS plus your name and postcode to 60099 (eg, Bills Lucy Smith Maidstone)
Texts are charged at £2 plus your standard network rate and you can enter online here.
You must be aged 16 or over to enter.
Keep your phone on ring mode because Andy Walker or Rob Wills could be calling you to play between 11am-5:30pm.
Read the competition terms and conditions

WHEN DOES THE COMPETITION START?
Pay My Bills starts during kmfm Daytimes (11am-4pm) and runs through to kmfm Drivetime at 5:30pm from Monday 10th January, but you can enter from Saturday 1st January if you want to get your entry in before then. All entries from 1st January through to when the competition is won will be included.
Listen out for any bonus rounds we may throw in too during the day. If we do it means we will be playing extra round/s, and that means another chance for you to play to win!

DO I HAVE TO ENTER EVERY ROUND?
No need to do that! You can enter a number of times but enter just once and you are in the draw for every round until the prize has been won.

CAN I PLAY MORE THAN ONCE?
Sure. Your number stays in the call back list until the prize is won, and could be called back every time if you are super lucky!

HOW MANY TIMES CAN I ENTER?
You can enter the competition more than once. If you send a 2nd text entry (at an additional cost of £2.00 plus standard network rate) you will receive a 3rd entry for free.
You can enter a maximum of 20 times via text and the same online. Any entries submitted over that amount may be still be charged but not counted.

IF I WIN HOW DO I GET THE PRIZE?
The prize is tax free cash paid directly into your bank account, so to play you will need a bank account in your name.

OH, AND REMEMBER...
The longer you listen to kmfm the more chances you have of kmfm paying your bills. Just listen out for those numbered boxes and good luck!
---