Win £199 to spend with Specsavers - sponsors of Medway Christmas Lights 2019

We're teaming up with Specsavers, Chatham, Gillingham and Strood to turn on Christmas lights across the Medway towns.
Thanks to the team at Specsavers, they are offering you the chance to take a FREE EYE TEST in December at their stores in Medway. Just click on the picture link of your nearest Specsavers.
The team at Specsavers are starting the presents early too and want to give you an early Chrimbo gift!
Each store is giving you the chance to win £199 to spend on glasses, designer glasses or sunglasses like Balmain, Kylie Minogue, Superdry, Diesel, Cath Kidston and Hugo Boss. That's £199 gift card to spend in Chatham, £199 gift card in Gillingham and £199 gift card in Strood.
It can be redeemed against any glasses in the store you win the gift card for! Why not consider making the most of their 2 for 1 offer in-store too!
Their famous 2 for 1 glasses offer gives you unbeatable choice and value. You can choose any two pairs of glasses from our £69 to £169 ranges, and pay for just one, and that includes designer glasses all from just £99 and you can use your gift card in their offer too!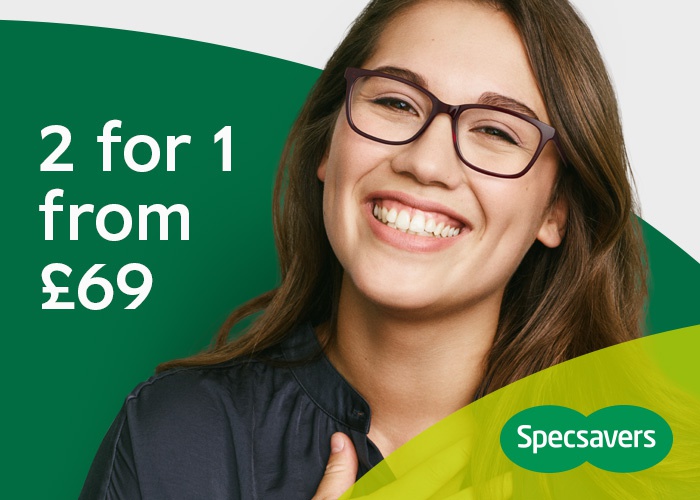 To win, answer this question and select the store you would like to spend your gift card in.
Which child wizard is famous for his round glasses and scar on his head?

Gift Cards Term and conditions
Prize Details
3x £199 gift card meaning 1 for each Specsavers Medway store. You can enter for each store but you will only win 1 gift card should you be chosen. All entrants we enter a free prize draw with 1 entry chosen at random to win for each store. Entries close at 23.59 11th December with winners being notified by 13th Dec 2019.
Gift cards can be used in full or part payment for any eye care goods and services purchased in any Specsavers in the UK. Excludes ROI.
Gift cards cannot be exchanged in whole or part for cash. Valid for 24 months from date of purchase. For your nearest Specsavers, visit specsavers.co.uk or call 0800 0680 241