Share The Love

Vote now for the couple you think deserves to win £500 and you could be a winner too!
Valentine's Day is coming around quickly, and kmfm is asking you to 'Share The Love' to win £500 to spend on the one you love this Valentine's Day.
You have been making us feel super soppy, laugh, tear up a little (no you're crying!!) in your hundreds - thank you if you submitted a story about your first dates, proposals, and weddings.
We now have our final 5 couples and it's down to you to tell us which one you think deserves to win £500 to make this Valentine's Day special.
Vote for your fave story and you could win a £50 M&S Voucher for flowers, a loving meal, desert and some sweet treats!
Let's meet them
Couple 1: Brogan & Robert from Faversham
**FAKE DRINKS**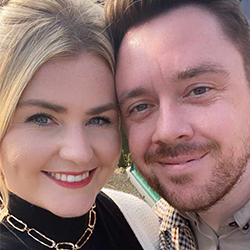 I was living in Lanzarote working in the airport where we were told that new people would be starting as reps. Including Robert from Glasgow – cheeky, funny, and a breath of fresh air to the island. After a few conversations, he told me that "all of the team are going for drinks in bluebells".
I thought "well if everyone is going, I might as well go!".
I arrived to find Robert sitting there on his own!
Turned out no one else was invited and Robert just wanted to meet me for a drink but was too shy to ask me!
We hit it off immediately but sadly he had to leave the island and return to Glasgow.
After several trips back and forth he one day decided not to get on the plane and phoned me saying he couldn't leave. 4 years later we are in love more than ever and saving for our first house.
Couple 2: Beth and Dan from Folkestone
**BOWLING STRIKE**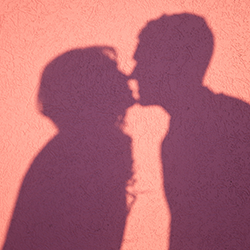 On our first date we went bowling.
My now-husband came up behind me as I was swinging the bowling ball back; I didn't realise he was there. He put his hand out to stop me from hitting him in a delicate area (if you know what I mean) and he accidentally broke my nail back.
With my newly poorly hand, I messed up my shot. I demanded I took his so I could mess up his score and make it even. I rolled the ball so slowly (it appeared to stop halfway down), it then picked up speed; I got HIM a strike! He got all the points.
I've always said that his reaction was when I realised I loved him.
He then asked me out at the top of the Eiffel Tower (despite me refusing to climb to the top and him pulling me up and threatening to ask someone else out that managed to get there).
17 years later, we are happily together with two beautiful children.
Couple 3: Lauren and Hayden from Rainham
**DAD ARRANGEMENT**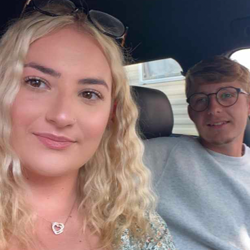 I first met my partner through his dad, I know sounds weird. Turns out he's been trying to get him a girlfriend for a while.
His dad was a delivery driver and came into my work to drop parcels off. He mentions his son was single and told me he would put him on the next delivery so I could meet him.
On the next delivery, sure enough, his son comes in.
I didn't know what to say, I was embarrassed and panicked; so I told him he was a bit short! I got bright red in the face and went back to my seat.
The next thing I knew the receptionist ended up stopping him and asking for his number for me. I bet he wishes now he gave her a false number!
On our first date we went for a walk he asked if I wanted to go for dinner. First dates are so scary but always go on a second, they might surprise you; it worked for me!
Couple 4: Allison and Stuart from Aylesford
**CSI TO LAPLAND**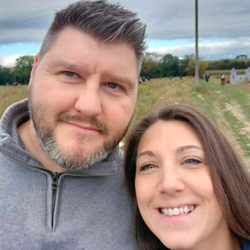 We met through a mutual friend. Our friend dragged Stuart away from playing on the computer and brought him to the pub.
We chatted and drank before going back to Stuart's and binged watched CSI: Las Vegas! After that, we were inseparable.
A week or so later, I crashed my car, so Stuart said I could move in and he'd play taxi, dropping me to work and collecting me every night - what a gent!
We'd been together only a few weeks when I was told we were going somewhere.
Off to the airport we went, me completely clueless as to where I was being taken!
After a few hours, we landed: Lapland! A place I'd always wanted to go. We went to see Santa who handed me a present & as I opened it, Stuart got down on one knee! After 6 weeks we were engaged & 17 years later, here we are! ❤
Couple 5: Jayne and Phillip from Rochester
**SOFA LOVE**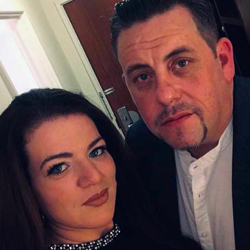 I was really hungover from the night before and my Aunt dragged me out of bed to go sofa shopping with her.
I looked awful! I had no make-up on, I was red-eyed and sofa shopping was not needed that morning.
We walked into this furniture store and were greeted by a cheeky chappy salesman. I really wasn't in the mood for all the cheesy sales patter.
I said "we are only looking" quite abruptly to which he replied with a smile "I only said hello! If you need me I will be about".
I got told off for being rude by my Aunt! I went to go and get him to help us and from that point on it was banter, flirting and constantly girly giggles from me as well as him.
My mum then embarrassingly asked him for his phone number as we purchased the sofa and he was "the optional extra".
Votes close 1800 Sunday 13th Feb 2022.

Share The Love sponsored by